Mint Honey Tea - Saturday
Vintage White Roses & Red Glaze Trio's - Imperial Fine Bone China England - Very Rare - Footed Teacup's From Wickstead's
I love Tea!
And anyone who knows me well, knows I love tea.
Herbal teas are my favorite type,
but usually I start with green tea. And if I am just wanting a stress relieving cup, I add mint to it.
Chocolate Mint for Tea or Cooking. Photo by CJD.Sign
I grow my own organic herbs and mints that flavor my teas.
Here is my latest crop of Chocolate Mint, dried and ready to add to a lovely cup of tea.
Fresh Chocolate Mint by CJD.Sign
I harvested this mint back in Late May. I dried it in bundles tied with rubber bands and tied with red ribbons for easier hanging.
Here is a quick tutorial on how to harvest, dry, and process your own mint.
I harvest early in the morning just after the morning dew has dried.
Hang in Cool/Dry spot. Photo by CJD.Sign
I then dry it for a month, hanging upside down in my kitchen, away from drafts.
Stems for a quick tea cup. I bring these to boil and strain into a tea cup.
Make sure you date & label your Chocolate Mint; I did after this photo. Photo by CJD.Sign
After a month or 6 weeks, I process the dried herbs and bag them up. I date and label the bags and store the in a dark closet. The small reusable containers are cleaned and used to store small amounts of herbs for cooking and teas. I refill them from the large gallon size bags.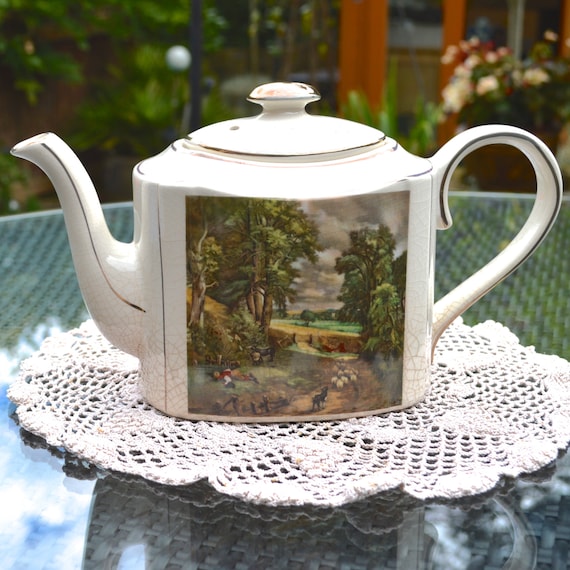 "Everything for The Quintessential Afternoon Tea"
LINK
Tija Wickstead's Blog
http://wicksteads.weebly.com/blog/how-old-is-the-concept-of-tea
is a very good and informative read. Check it out in the link above.
For a Pot of Tea:
I found this to be the best informative directions to make herbal tea. There are many on the web. I like the visuals on this one above.
My general rule of thumb

for a Cup Of Tea:
1 cup hot water
1 teaspoon herbs (more or less depending on the strength of the herb I am adding)
Place in tea ball and steep for five to ten minutes. I add honey or drink plain, depending on the tea flavor.
I hope you found this article enticing and helpful.
Happy tea drinking!
Enjoy,
CJD.Sign
Sponsored by Matt A Dunkle of Custom Gem Cutter