10 Classic Pieces You Need In Your Closet
I came across this article by Cathy Hill on TheGlitterGuide.com
and became curious if I indeed had these 10 classic pieces in my closet. I was interested to see if I could find similar pieces for less cash. I like the high quality, but who doesn't like a good deal. Right?
Cathy says, "
Every season brings the urge to splurge on trendy new items—but there's a good chance that you'll have no desire to reach for most of those pieces in a year (or less!). Our associate editor Kate Wong has gorgeously illustrated ten wardrobe essentials that are worth every penny. Mix and match these must-haves with the trendy infusions in your closet. The best part? They'll be just as chic in ten years!" That right there is an intriguing idea! I want things to last for years to come. My budget likes that too!
Here is the first item she specified, a Trench Coat. Cathy picked this one:
Zara Double Breasted Trench Coat ($169)
Photo linked from ZARA
And I found this Calvin Klein Double Breasted Trench Coat for $64.99 with free shipping from 6pm.com And this one has a nice tie belt too!
Photo linked from 6pm.com








The second item is a pair of Nude Heels;
"How lovely are these Kurt Geiger London Petal Pumps ($350)?!" And yes, they are cute and look comfortable. But a bit pink looking.
Leather: Cowhide.
Made in Spain.
And I found these Nude Pumps at Bloomindales.com for $99.00 by MICHAEL Michael Kors Pumps - MK Flex Mid Heel

photo link from Bloomindales.com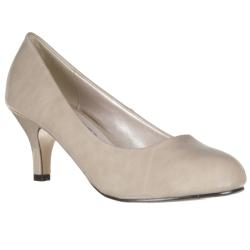 photo link from Overstock.com












So on to the next item. A pair of Dark Denim Skinny Jeans. "
We love rag & bone's High Rise Skinny Stretch Jeans ($185) with free shipping", says Cathy. And they are cute, but I just can't do skinny jeans. So I considered boot cut jeans or straight leg jeans. *go to link for photo, won't uplink*
And I found these:
NYDJ Women's Barbara Boot-Cut Classic Jeans - Burbank (2)
$90
$120
on sale on
neimanmarcus.com
photo link from NeimanMarcus.com
And I found these Flair Cut Jeans from Victoria Secret for $39.50 on sale from $69.50.
*go to link for photo, won't uplink*
Ok, so far I have found considerable price reductions for similar classic pieces. Let's keep going and see what else I can find~
Next on the list is: A leather cross body bag, the one featured is
"a leather crossbody bag—like this Coach Classic Ramblers Legacy Flap ($258)—will last a lifetime!", writes Cathy. And I so agree. Leather never seems to go out of style!
*go to link for photo, won't uplink*
And I found this bag for $117.99 by Fossil Austin a Small Leather Saddle Bag on Overstock.com

photo linked from Overstock.com
Which I think just as cute. I even remember my mom having a leather bag similar. Mine is more a feed bag look.







Next on Cathy's list is: A Little Black Dress. A must for any closet, I think! She found one here: "We recommend adding this Topshop V-Neck Raw Edge Dress ($85) to your collection!"

photo linked from Topshop USA


I love this dress. It is shapely and flattering! Even with the higher cost, I like Cathy's pick the best.
I found A Little Black Dress (a close second for me compared with Cathy's dress find) at La Donna Bella for USD $45.95USD $27.95
Photo linked from La Donna Bella
.
The next piece is a metal Watch. Cathy says, "
This Kate Spade New York Gramercy Bracelet Watch ($225) is a classic piece you'll be wearing for years to come." This watch is gorgeous with its gold colored accents on the white clock face. I fell in love with this one!
Kate Spade Watch
I looked really hard to find one to come close to this Kate Spade model and since I had no luck, I found a whole page of Kate Spade Bracelet Watches for you to choose from!! For me, I could find 5 or 6 that would be fine with me. ;)
Number 7 on the list is a Classic White Tee.
Cathy tells us that it goes with most anything and is easy to style. She found this Tee at the Gap:
Gap's Favorite Short-Sleeve V-Neck Tee ($14). A very nice quality V-Neck Tee. *go to link for photo, won't uplink*
And at $14.00, I am not sure I could beat or match that. But I found one here at Old Navy/Gap for $5.00 on sale from $8.95. Well, both Old Navy and Gap are owned by the same corporation. *go to link for photo, won't uplink*

http://www.luckymag.com

Then Cathy says that "a statement necklace can transform any outfit. A standout piece like this J. Crew Crystal Venus Flytrap Necklace ($116.00) will always ensure an extra dose of chic". The Crystals are Glass in the description.
And I found a Pave Stone Necklace from Ann Taylor for $89.60.

photo linked from AnnTaylor.com

This necklace is a bit fancier and in silver rather than gold.

And the description calls the stones "luxe stones surrounded by sparkly pave", which I found out that this is another name for Crystals. Who would have figured?
Following this Crystal Necklace is A Boyfriend Blazer. I love this look and have had a few boyfriend blazers in my closet. I think Boyfriend Blazer is a new term for Men's Blazer. I like to push up the sleeves when I wear mine with jeans. Cathy's pick actually has ruched sleeves . Elizabeth and James Jamie Ruched-Sleeve Boyfriend Blazer ($465)
on Sale $30.99
Original $58.00 from Kohl's
I love these blazers. I have one in blue, black and one in a tweed. A must have for coordinating Fall clothes.

Cathy's classic flat "Lanvin Two-Tone Leather Ballet Flats ($545)—are sure to be your favorite shoes twenty years from now". This pair are from Net-A-Porter.com. And I agree with Cathy. Ballet flats seem to stay in style.
I am not one for two-toned shoes, but I really like these ballet flats and they would go with many of my outfits!
Well, there are my finds for sensibly priced 10 classic items for your closet. Hope you find what you are looking for! With all the money you save you could have a weekend get away! But please read Cathy Hill's article in theglitterguide.com for the complete written piece. Cathy tells you why these pieces are classics that never go out of style.And the artwork illustrations are cute!
As for my "Closet Classics" report card, I have the following in my closet: 9 out of 10. Not bad!
Have a great week! Enjoy & God Bless You!