Scarves for Fall ~ What to Wear
Hello Everyone,
I have just got to tell you about the cute scarf that a friend of mine was wearing on Monday. First of all, it was grey and cream and had old bicycles on it! Too cool, right? Well, she said she got if for her birthday and from a friend who got it at Macy's Department Store. Ok, so I tried to find this scarf to show it off, but to no avail. Yet, it was too cute and I wanted to blog about scarves for fall anyway!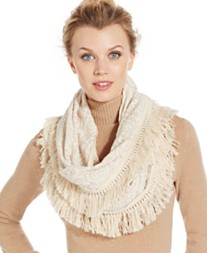 Macy's Scarves Here: Macy's
So I decided to make some for myself. I found some printed silk material and went to work on it. But my photos are on my external hard drive and, well, the cord has be "eaten" and need fixing! So, I'll update with my new scarves soon! I pray!
And I ran across a cute blog on a few ways to wear your scarves and folding tutorial, so check it out! AP & AS
4 Ways to tie a Neck Scarf
Source: AP & AS on Bloglovin' Photos by Bryant Lee
Archive
Back Link:
Hope you enjoyed your week so far! Start today off right with a prayer!
Enjoy!
CJD.Sign